Research Outputs
This page provides access to the outputs to date, including working papers, research reports, conference papers and presentations.
Final Reports
Findings and Recommendations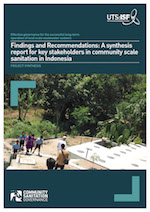 This report is a brief synthesis of the 3-year research project to better understand and improve governance of local scale sanitation services. It serves the purpose of an 'executive summary' in English and Bahasa Indonesia, and presents

 

the main findings and recommendations for near term improvements as well as recommendations for longer term policies and programs for consideration by key stakeholders.
(English) (1.5MB)
(Bahasa Indonesia) (1.3 MB)
 Visual Synthesis Report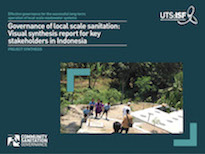 This document is a companion to the Findings and Recommendations report, using a visual presentation format to elucidate the findings and recommendations in greater detail. It was presented to program and policy project partners at the project's end for validation and discussion.
(English) (2.2MB)
(Bahasa Indonesia)(2.0 MB)
Research and Policy Briefs
These two-page Briefs provide high level synthesis of the research outcomes and policy recommendations.
Guidance Materials
The pair of documents comprising the Guidance Materials are designed to allow stakeholders to consider a range of strategies for improving governance and select those that are appropriate for the specific strengths and weaknesses of their particular contexts. While emphasising the responsibility of local government as the ultimate duty bearer for sanitation services, it enables consideration of allocating and sharing responsibilities for achieving outcomes effectively and equitably. It guides users through four components: Governance dimensions – what should be governed?; Governance spectrum – who should be involved and how?;  Governance game – what happens in your area now and how else could roles be assigned?; and Role play – what is it like to walk in others' shoes?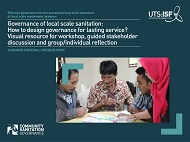 How to design governance for lasting service? Visual Resource is a powerpoint presentation that may be used in a workshop setting to guide stakeholder in structured conversations and reflection, or for individual or small group reflection.  It provides explanation and presents options and activities to enable participants to select and adapt options for improving governance in their own contexts.

(English pdf)(4.9 MB)    (Bahasa Indonesia pdf)(4.6 MB)
(English ppt)(6.5MB)    (Bahasa Indonesia ppt)(6.6MB)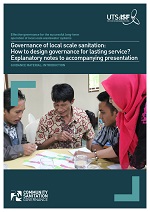 How to design governance for lasting service? Explanatory notes to accompanying presentation provides background and guidance to use the reflection tools within the guidance materials. It is a stand-alone document that also provides preparation to anyone wishing to use the Visual Resource for collaborative reflection for improving governance.
(English)(2.2MB)
(Bahasa Indonesia)(1.5MB)
Research Papers
Global Practice Scan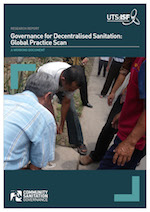 The Global Practice Scan is a review and synthesis of relevant practices, experiences and lessons from sanitation and other decentralised sectors. We used a governance framework that is new for the sanitation sector as our lens for the scan, separating day-to-day responsibilities from the institutional arrangements that help or hinder successful operation. Four key governance domains emerged: sustaining demand, effective management, sustainable financing, and functioning technology. It informed and inspired the research team and collaborators, and will be useful for anyone interested in sanitation governance.
(1.3 MB)
 An assessment of evidence on performance of local scale wastewater systems: Synthesis and Recommendations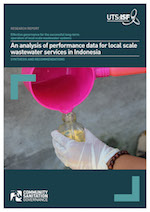 This reports on the research findings regarding the availability of data (type, volume and quality) as an evidence base for assessing the performance of local scale sanitation systems. It also illuminates common challenges faced by community based organisations (KSMs) in managing their systems to perform adequately. It includes suggestions for possible paths to addressing gaps and limitations to better achieve sanitation goals.
(English) (600 kB)
(Bahasa Indonesia Executive Summary) (200 kB)
An case study analysis of  formal and informal institutional arrangements for local scale wastewater services in Indonesian : Synthesis and Recommendations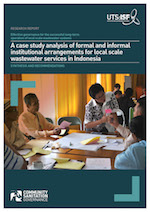 This contextual analysis looks at the barriers and opportunities to city local government supporting local scale wastewater systems. The report investigates the institutional arrangements for service delivery and the underlying dynamics that condition these institutional arrangements, primarily at the local government level; and proposes options available to local government to support sustainable local scale services.
(English) (1.2 MB)
(Bahasa Indonesia) (1.3 MB)
A review and comparative analysis of indicative service costs for different sanitation service scales in Indonesia: Synthesis and Recommendations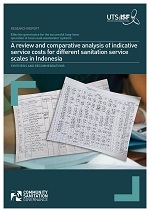 This review illuminates and raises questions about the distribution of sanitation service costs across key stakeholders under current practices. A comparative assessment of indicative costs for local scale, centralised scale and semi-centralised (kawasan scale) sanitation services is made, drawing on distinct sets of practice-based experiences and professional estimates of costs, for a defensible analysis that accommodates the challenges of collecting representative and comprehensive cost data.
(English) (1.1MB)
(Bahasa Indonesia Executive Summary) (430 kB)
A review of the Indonesian Legal Framework in relation to local scale wastewater service delivery.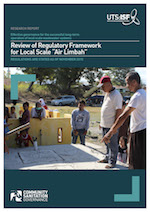 This review undertaken in partnership with Center for Regulation, Policy and Governance at the University of Ibn Khaldun Bogor (IUKB), explores five areas from a legal perspective relating to local scale wastewater services: national laws and regulations, local laws and regulations, ownership and funding options, differences between programs for delivering local scale systems, and options for CBO professionalisation.
(English)(2.2 MB)
(Bahasa Indonesia) (2MB)
Conference Papers and Presentations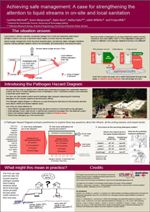 Mitchell, C, Abeysuriya, K, Ross, K, Eales, K, Willetts, J & Mills, F. (2017). 'Achieving safe management: A case for strengthening the attention to liquid streams in on-site and local sanitation'. Poster presentation at the FSM4 Conference, Chennai, 19-23 February 2017.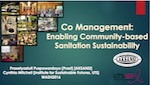 Puspowardoyo, P. & Mitchell, C (2016) 'Co-Management – Enabling Community-Based Sanitation Sustainability'. Powerpoint presentation, presented at the WaSH Futures Conference, Brisbane, 16 May 2016.
(2.2 MB)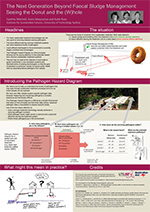 Mitchell, C., Abeysuriya, K. & Ross, K. (2016). 'The next generation beyond faecal sludge management: seeing the donut and the (w)hole'. Poster presentation at the WaSH Futures Conference, Brisbane, 16-20 May 2016.
(1 MB)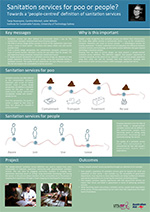 Rosenqvist, T., Mitchell, C. & Willetts, J. (2016). 'Sanitation services for poo or people? Towards a 'people-centred' definition of sanitation services'. Poster presentation at the WaSH Futures Conference, Brisbane, 16-20 May 2016.
(3.3 MB)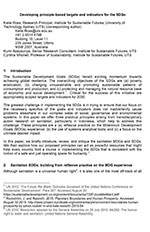 Ross, K., Abeysuriya, K. & Mitchell, C. (2015). 'Developing principle-based targets and indicators for the SDGs'. 3rd Annual International Conference for Sustainable Development. New York, September 2015. http://ic-sd.org.
(Paper) (1.2 MB)
(Presentation) (3.2 MB)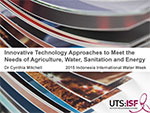 Mitchell, C, Ross, K. & Abeysuriya, K. (2015) 'Partnership for sustainable air limbah outcomes as skala lokal'. Powerpoint presentation, presented at Indonesia International Water Week, May 2015.
(11 MB)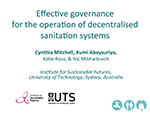 Mitchell, C & Abeysuriya, K, Ross, K. & Mikhailovich, N. (2014), 'Effective governance
 for the operation of decentralised sanitation systems', PowerPoint presentation, presented at the WASH Conference 2014, Brisbane, March 2014
(7.7 MB)
Journal Articles and Book Chapters
Mitchell, C. and Ross, K., 2016. 'Trandisciplinarity in action: Four dimensions, a reflexive framework and their application to improving community sanitation governance in Indonesia' in Fam, D., Palmer, J., Reidy, C. & Mitchell, C. (eds) Transdisciplinary Research and Practice for Sustainability, Routledge, UK
Mitchell, C., Abeysuriya, K. and Ross, K., 2016. 'Making pathogen hazards visible: a new heuristic to improve sanitation investment efficacy'. Waterlines vol 35 no 2, April 2016. Practical Action Publishing, UK. Download (Open access 700 kB)
Rosenqvist, T., Mitchell, C. & Willetts, J., 2016. A short history of how we think and talk about sanitation services and why it matters. Journal of Water, Sanitation and Hygiene for Development, volhttp://washdev.iwaponline.com/cgi/doi/10.2166/washdev.2016.118.
Working Documents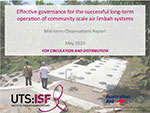 Mid-term Observations Report
Using a novel reader-friendly presentation format, this report summarises field-work observations viewed through a 'systems' lens to provide new insights on old problems. It uncovers that performance monitoring processes are mostly missing what matters for assessing the effectiveness of local scale systems.
(English) (2 MB)
(Bahasa Indonesia) (2 MB)
CPRG completed the review of local wastewater regulations in Indonesia. CPRG summarised the complexity of the legal analysis into mind maps which visualise the thematic content area of their review.
Blog post – mind map1 – regulatory framework (English)
Blog post – mind map2 – regulatory review results (Bahasa Indonesia)

     
See ISF's other WASH work here.